Reykjavik Hop on Hop off Bus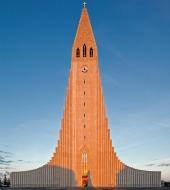 Entdecken Sie Reykjavik und alle seine wundervollen Highlights mit dem Hop on Hop off Bus!
Reykjavik bietet das Beste aus zwei Welten: eine moderne, zukunftsgerichtete Stadt die zugleich nah an ihrer unberührten Natur ist. Reykjavik ist wahrlich ein magischer Ort. Buchen Sie eine Tour mit City Sightseeing und entdecken Sie die Stadt nach Belieben mit der Möglichkeit an bequem über die Stadt verteilten Punkten ein- und auszusteigen. Zum Beispiel an Stopp 2, wo Sie die Chance haben Ausschau nach Buckelwalen oder sogar Delphinen zu halten. Für eine aufregende Kostprobe von Geschichte und Architektur besuchen Sie das Stadtmuseum von Reykjavik und genießen Sie die high-tech und interaktive Medienerfahrung, ein Spass für die ganze Familie. In diesem Museum trifft Technologie auf Geschichte mit seiner Ausstellung der Ausgrabung eines Langhauses der Wikinger aus dem zehnten Jahrhundert.
Häufigkeit: 60 Minuten
Dauer: 60 Minuten
Jahreszeit: Täglich ab 10 Uhr: 8 June - 5 September.
Extra days of operation: May: 17/ September: 8, 9, 12, 13, 14, 17, 18, 19 & 23.
Kindly note that the bus is not running on 17 June & 11 and 18 August (celebration days).
ROUTE: Harpa Konzerthalle & Konferenzzentrum, Skarfabakki Hafen (nur falls Passagierschiffe im Hafen liegen),
Stadtzentrum (Tour startet stündlich zur vollen Stunde), Walbeobachtungszentrum, Nationales Museum, BSI Bus Terminal, Perlan, Kringlan Einkaufszentrum, Hilton Reykjavik Nordica, Reykjavik City Hostel, Skarfabakki Hafen, Hallgrimskirkja.
Das Ticket ist das ganze Jahr gültig! Kaufen Sie Ihr Ticket online und umgehen Sie die Warteschlangen!

Tickets per E-Mail.