Dubai Hop on Hop off Bus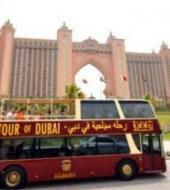 Entdecken Sie Dubai und alle seine wundervollen Highlights mit dem Hop on Hop off Bus!
Der Hop on Hop off Bus bietet Ihnen die beste Sightseeing Tour Dubais, mit persönlichem Kommentar wählbar in zehn Sprachen. Die beiden Routen der Tour, die Strand Tour und die Stadt Tour bieten den perfekten Überblick über Dubai. Sie können ein- und aussteigen so oft Sie wünschen und die mehr als zwanzig interessanten Plätze entlang der Route erkunden. Alles vom weltbekannten Burj Al Arab bis hin zu traditionellen Gold- und Gewürzhändlern. Sie können zwischen einem 24 oder 48 Stunden Ticket wählen, welche Sie mit ausreichend Zeit ausstatten, um all die Attraktionen zu besichtigen die Sie wünschen.
Sie können auch die Nachttour wählen, eine 2,45 stündige Tour durch Dubai mit Live-Kommentar eines ortskundigen Reiseführers, der Ihnen die Besonderheiten dieser funkelnden Stadt näher bringt. Die spannende Wafi Lichter- und Klangshow ist ebenfalls in der Tour inbegriffen. Die "einmalige Runde" der Nachttour ist eine hervorragende Option wenn Ihre Zeit knapp ist. Es ermöglicht Ihnen sich zurückzulehnen, zu entspannen und die spektakuläre Skyline zu erleben während die Sonne undergeht und Dubai zum Leben erwacht.
Darüber hinaus freuen wir uns, Ihnen mehrere Möglichkeiten für freie Eintritte in Ihrem Ticket bereitgestellt zu haben: Eine Fahrt auf einem Arabischen Dhow an der Küste von Dubai; Eintritt in das Museum von Dubai, Eintritt in das Sheikh Saeed Al Maktoum's Haus; ein Ticket für den RTA Wasser Bus; Spaziergang (Oktober bis April); die Broschüre von Big Bus stattet sie mit Rabatten bei Einkauf, Essen und Freizeitaktivitäten in Abu Dhabi und Dubai aus.
Fahrplandetails:
• Genießen Sie den Service das ganze Jahr über
Die Nacht Tour: 365 Tage im Jahr
Sie können starten:
19.15 - Deira City Centre
19.15 - Burjuman
19.30 - Dubai Mall
19.45 - Mall of the Emirates
20.00 - Souk Madinat
ROUTE: The Burj Al Arab, The Jumeirah Mosque, Al Fahidi Fort& Dubai Museum, The Gold Souk, The Burj Khalifa, The Spice Souk, Jumeirah Park & Public Beach, Atlantis on the Palm, Sheikh Saeed Al Maktoum´s, Dubai Creek and Emirates Towers.
Das Ticket ist das ganze Jahr gültig! Kaufen Sie Ihr Ticket online und umgehen Sie die Warteschlangen!

Tickets per E-Mail.