Las Vegas Hop on Hop off Bus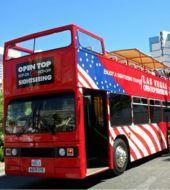 Entdecken Sie Las Vegas und alle seine wundervollen Highlights mit dem Hop on Hop off Bus!
Mit dem offenen Verdeck kann man alle bekanntesten Sehenswürdigkeiten erleben. Diese Tour bietet einen Einblick in das Tagesgeschäft dieser faszinierenden Stadt und einige Ihrer buntesten Geschichten und Persönlichkeiten! Buchen Sie die Tagestour und nutzen Sie die Möglichkeit nach Belieben an den Orten ein- und auszusteigen die Sie interessieren, oder begleiten Sie uns auf der Nachttour und erhalten Sie den bestmöglichen Eindruck von der legendären Beleutung der Stadt. Sie erhalten einen weiteren kostenlosen Tag mit der 24 Stunden Tour und wenn Sie wünschen auch ein wenig mehr um sich an den ganzen Attraktionen zu erfreuen. Die Tagesroute bietet Ihnen einen unterhaltsamen Kommentar eines erfahrenden Stadtführers. Die Nachttour führt Sie den ganzen Strip entlang und durch Down Town damit Sie all die hellen Lichter bewundern können, die diese Stadt die niemals schläft zu bieten hat. Diese Tour ist eine unterhaltsame Art diese wunderbare Stadt zu erkunden; der perfekte Einstieg in Las Vegas und ein lustiger Tag für alle.
ROUTE: Circus Circus Hotel & Casino, Bally's Hotel & Casino, Museum der Nuklearforschung, Hard Rock Hotel & Casino, Miracle Mile Shops, Das Excalibur Hotel & Casino, Welcome to Las Vegas Schild, Bally's Hotel & Casino, The Wynn Encore Hotel & Casino, Circus Circus Hotel & Casino, The Pawn Shop, Fremont Street East, El Cortez Hotel & Casino, Premium Outlet Mall, Stratosphere Hotel & Casino, Circus Circus, Modeschau Einkaufszentrum.
Das Ticket ist das ganze Jahr gültig! Kaufen Sie Ihr Ticket online und umgehen Sie die Warteschlangen!

Tickets per E-Mail.