Shanghai Hop on Hop off Bus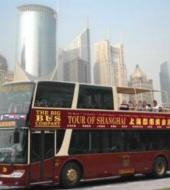 Descubra Shangai y todos sus aspectos más destacados y maravillosos con el Hop on Hop off Bus!
Disfrute de unas magníficas vistas de autobuses descapotables de dos pisos al mismo tiempo que sus comentario le hacen revivir 1000 años de historia de Shanghai. El trazado del tour traza se realiza por calles arboladas, destacados edificios de estilo colonial y altísimos rascacielos.
La gira cuidadosamente diseñada le lleva a todos los lugares de interés turístico, desde el Templo del Buda de Jade a la torre de televisión Perla de Oriente y desde People's Square a The Bund – la línea de costa más famosa de Shanghai. Los autobuses pasan con regularidad y puede subir y bajar en una gran variedad de lugares interesantes.
Su billete de 48 horas le proporciona acceso a las dos rutas del Tour Big Bus. Juntas le permiten experimentar la herencia cultural y la impresionante arquitectura que hace de Shanghai una ciudad fascinante. Por favor, siéntese, relájese y deje que Big Bus le de la introducción perfecta a Shanghai.
City Tour (Ruta Roja): Salida de autobuses desde People's Square cada 30 minutos entre las 9 y las 17h
Pudong Tour (Ruta Azul): Los autobuses salen desde The Bund cada 45 minutos entre las 9:45 y las 17h
Temple Tour (Ruta Verde): Los autobuses salen desde la People's Square cada hora entre las 9:15 y las 17:15h
El billete es válido durante todo el año! Compra tu entrada online y evita las colas!

Las entradas le serán enviadas en un e-mail