Paphos Hop on Hop off Bus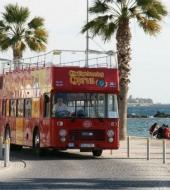 Descubra Paphos y todos sus aspectos más destacados y maravillosos con el Hop on Hop off Bus!
El popular destino mediterráneo de Paphos tiene mucho que ofrecer, desde castillos y tumbas de antiguos nobles hasta el famoso Pilar de San Pablo y hermosas playas de arena. Si desea tomar ventaja de las hermosas playas de Paphos y su caluroso clima, asegúrese de pasar tiempo en la zona del puerto, con su arena suave y aguas azules, ideales para los deportes acuáticos. Cerca del puerto (Stop 1) está el famoso yacimiento arqueológico, un inmenso complejo de ruinas que muestran los mosaicos bien preservados de Paphos. Vea las ruinas de un castillo del siglo séptimo, el Kolones Saranda. Muy cerca se encuentra la fortaleza medieval junto al puerto donde se puede disfrutar de unas vistas impresionantes y descubrir la más impresionante historia de Paphos.


Construido originalmente en el siglo 13, durante la era de la isla Lusignan, y remodelado por los venecianos tres siglos más tarde, el castillo cuenta con un laberinto de salas abovedadas y celdas. Los otomanos lo utilizaban como mazmorras y los británicos como un almacén para la sal.

El puerto ofrece bonitos paseos, así como restaurantes de pescado, cafeterías y bares para relajarse dentro. Coja el bus hacia el Museo Arqueológico, que alberga una colección de antigüedades chipriotas, que abarca el Neolítico, Edad Media, Edad de Bronce y la época romana
Frecuencia: cada 60-90 minutos
Duración: 60 minutos
Temporada: de Abril a Noviembre
RUTAS: Harbour, St Pauls Pillar, Fabrica Hill, Tomb Of The Kings, Paphos Old Town, Town Hall / Museums, Archaeological Musuem, Island Cove Mini Golf, Phaethon Beach Hotel, Ledra & Athina Beach Hotels, Amathus Beach Hotel
El billete es válido durante todo el año! Compra tu entrada online y evita las colas!

Las entradas le serán enviadas en un e-mail