Varsovia Hop on Hop off Bus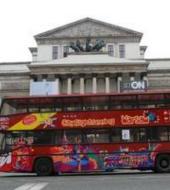 Descubra Varsovia y todos sus aspectos más destacados y maravillosos con el Hop on Hop off Bus!
Varsovia, capital de Polonia, es una ciudad única en el centro de Europa. Será realmente fascinado por la historia y la atmósfera de esta magnífica ciudad, que combina las influencias de la Europa Occidental y Oriental, donde la tradición se une a la modernidad. Descubra la ciudad de los contrastes, donde los monumentos históricos y la arquitectura moderna coexisten en todas las calles. La Ciudad Antigua ha sido meticulosamente restaurada y se centra en una plaza del mercado medieval con cafés al aire libre, rodeada de casas renacentistas y barrocas. El Barbican, una reliquia de las murallas medievales, se encuentra al sur de la plaza, y más al sur está el Lazienki Park.
Duración: 120 minutos
Frecuencia: cada 60 minutos a partir de las 11
Temporada: Todo el Año
RUTA: The Palace of Culture & Science; Zlote Tarasy Shopping Centre, Pilsudski Square- Saski Garden- Zacheta, Nowy Swiat - Chopin Musem, Bank Square- Krasinski Park, The Royal Castle- Zygmunt Column- Old Town, Krakowskie Przedmiescie str- The Royal Castle, Krakowskie Przedmiescie str- University of Warsaw, Nowy Swiat Street; National Museum, Palaces & Gardens Complex – Lazienki- Botanic Garden- Belweder, Downtown- The Palace of Culture & Science
El billete es válido durante todo el año! Compra tu entrada online y evita las colas!

Las entradas le serán enviadas en un e-mail