Dubai Hop on Hop off Bus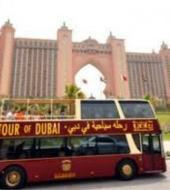 Descubra Dubai y todos sus aspectos más destacados y maravillosos con el Hop on Hop off Bus!
El Hop-on Hop-off bus es tour que visita los lugares más emblemáticos de Dubai, con una guía disponible en diez idiomas. El Tour tiene dos recorridos, el tour de playa y el City Tour, que ambos proporcionan una orientación perfecta de Dubai. Podrá subir y bajar tantas veces como quiera y explorar más de una veintena de lugares de interés, descubriendo de todo, desde el famoso Burj Al Arab en oro tradicional a los zocos de especias. Puede escoger entre dos tickets el de 24h o el de 48h dependiendo del tiempo que quiera dedicarle al viaje.
También puede disfrutar del Tour nocturno, con una duración de 2,45 horas, con un guía que le irá comentando a tiempo real los aspectos más destacados de esta emocionante ciudad. Este tour es una muy buena opción cuando no se cuenta con demasiado tiempo, permitiéndole relajarse y disfrutar del espectacular que ofrece el sol cuando se pone por el horizonte y hace que Dubai cobre vida.

Con el billete también tiene entrada gratuita a: un crucero Dhow árabe en Dubai Creek, entrada al Museo de Dubai, entrada a la Casa de Sheikh Saeed Al Maktoum, un billete para el autobús acuático RTA; un recorrido a pie (de octubre a abril); folleto con importantes descuentos para actividades de ocio y restaurants de Dubai y Abu Dhabi.

• Los buses operan todos los días del año

El Tour nocturno: 365 días del año
Puede empezarlo en:
19:15 - Deira City Centre
19:15 - Burjuman
19:30 - Mall Dubai
19:45 - Mall of the Emirates
20:00 - Souk Madinat
Ruta: El Burj Al Arab, la Mezquita Jumeirah, Al Fahidi y Museo de Dubai, The Gold Souk, el Burj Khalifa, el zoco de las especias, Jumeirah Beach Park & Public, Atlantis en la Palm, el Jeque Saeed Al Maktoum, Dubai Creek y Emirates Towers
El billete es válido durante todo el año! Compra tu entrada online y evita las colas!

Las entradas le serán enviadas en un e-mail