Glasgow Hop-on Hop-off Bus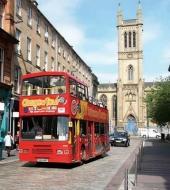 Découvrez Glasgow et toutes les merveilles avec le bus à montée et descente libre!
Laissez la visite guidée de la ville vous montrer toutes les choses à faire à Glasgow! D'excellents musées et galeries d'art à de beaux parcs, il y a une activité pour tous les âges dans cette ville écossaise passionnante. Les pubs sympas de Glasgow, des cafés accueillants, des bars confortables et discothèques animées contribuent à rendre Glasgow comme l'une des nouvelles destinations préférées pour de courtes pauses dont bénéficient tant les générations jeunes et âgées. Les excursions du bus à montée et descente libre sont l'ultime moyen de visiter cette ville animée, qui regorge de sites et attractions à vous couper le souffle. Pourquoi ne pas nous rejoindre sur nos bus rouges instantanément reconnaissable pour un aperçu ludique et coloré dans le passé et le présent de Glasgow?


Fréquence: Eté: toutes les 15-20 minutes, Hiver: toutes les 30 minutes.
Durée: 105 minutes.
Saison: Toute l'année (excepté les 25 et 26 Décembre).


TRAJET: George Square, Glasgow Cathedral, Merchant City, The Barras, Glasgow Green, St Andrews Square, St Enoch, George Square, St Vincent Place, SAS Radisson Hotel, Hotels, City Inn Hotel, SECC, The Tall Ship, Glasgow University, Byres Road, Museums, Kelvin Park, Charing Cross, Willow Tearooms, Theatres, Royal Concert Hall.


Ticket valide toute l'année! Achetez votre ticket en ligne et évitez la file d'attente!

Les tickets seront envoyés par e-mail.