Oslo Hop-on Hop-off Bus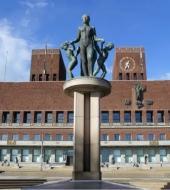 Découvrez Oslo et toutes ses merveilles avec le bus à montée et descente libre!
Oslo, la plus ancienne des capitales scandinaves, a été fondée par Harald Hadrade au 11ème siècle. Elle entouré par les montagnes, au bout d'un fjord de 110 km. Oslo est une ville facile à vivre où l'histoire rencontre la modernité. La ville se vante de musées de classe mondiale, d'une vie nocturne animée et de nombreuses activités de plein air - de nombreux habitants sont des amateurs de randonnées, skieurs ou marins. Admirez la ville depuis le pont supérieur d'un bus à toit ouvert et profitez de vues à 360 degrés de la ville. Montez et descendez du bus à votre guise aux arrêts commodément situés autour de la ville.

Durée: 90 minutes.
Fréquence: Toutes les 90 minutes à partir de 9h45.
Saison: 2 Mai – 30 Septembre. Plus 2, 3, 4, 11 Octobre pour l'arrivée des bateaux de croisière.

ITINERAIRE: Oslo City Hall, Oslo Cruise Terminal & Akershus F., Oslo Opera House, Oslo Central Station, Clarion Royal Christiania Hotel, Grand Hotel & Karl Johan Street, Oslo City Hall, Oslo Parliament & Karl Johan, The Royal Castle & The Ibsen Museum, Vigeland Sculpture Park, Norwegian Museum Of Cultural History, Viking Ship Museum, Kon-Tiki, Fram & Norwegian Maritime Museum, Viking Ship Museum, Norwegian Museum Of Cultural History, Aker Brygge.

Ticket valide toute l'année! Achetez votre ticket en ligne et évitez les file d'attente!

Les tickets seront envoyés par e-mail.