Paphos (Cyprus) Hop-on Hop-off Bus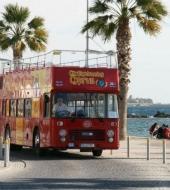 Découvrez Paphos et toutes ses merveilles avec le bus à montée et descente libre!
La destination populaire méditerranéenne de Paphos a beaucoup à offrir, des châteaux et les tombeaux des anciens nobles à la célèbre colonne de la place Saint-Paul et de ses magnifiques plages de sable. Si vous voulez profiter des somptueuses plages de Paphos et de son climat chaud, alors assurez-vous de passer du temps sur la côte, son sable doux et ses eaux bleues profondes, idéales pour les sports nautiques. Près du port (Stop 1) se trouve un site archéologique de renommée mondiale, un immense complexe de ruines présentant les mosaïques bien conservées de Paphos. Observez les vestiges d'un château du 7ème siècle, le Kolones Saranda. A proximité se trouve le fort médiéval près du port, où vous pourrez profiter d'une vue imprenable et découvrir la passionnante histoire de Paphos. Construit à l'origine au 13ème siècle pendant l'ère Lusignan de l'île et remodelé par les Vénitiens trois siècles plus tard, le château dispose d'un dédale de salles voûtées et de cellules. Les Ottomans l'ont utilisé comme donjon et les Britanniques comme entrepôt pour le sel. Le port offre sur ses quais des promenades pittoresques ainsi que des restaurants de poisson, des cafés et des bars où se détendre. Prenez le bus pour vous rendre au musée archéologique qui abrite une collection d'antiquités chypriotes, couvrant la période néolithique, le Moyen-âge, l'âge du bronze et des périodes romaines.


Fréquence: Toutes les 60/90 minutes.
Durée: 60 minutes.
Saison: D'avril à Novembre.


Chemin: Harbour, St Pauls Pillar, Fabrica Hill, Tomb Of The Kings, Paphos Old Town, Town Hall / Museums, Archaeological Musuem, Island Cove Mini Golf, Phaethon Beach Hotel, Ledra & Athina Beach Hotels, Amathus Beach Hotel.
Ticket valide toute l'année! Achetez votre ticket en ligne et évitez la file d'attente!

Les tickets seront envoyés par e-mail.