Reykjavik Hop-on Hop-off Bus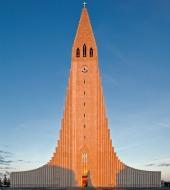 Découvrez Reykjavik et toutes ses merveilles avec le bus à montée et descente libre!
Reykjavik bénéficie du meilleur des deux mondes: une ville moderne, tournée vers l'avenir alors que dans le même temps elle reste proche de sa nature préservée. Reykjavik est vraiment un endroit magique à visiter. Faites un tour en bus avec le Circuit Touristique et explorez la ville à votre guise avec la possibilité de monter et descendre aux arrêts de bus bien situés. Descendez à l'arrêt 2 pour avoir la chance de participer à quelques-unes des observations de baleines et gardez un oeil sur les rorquals et baleines à bosse, les marsouins ou même des dauphins! Pour un aperçu excitant de l'histoire et de l'archéologie, visitez le Musée de la ville de Reykjavik et profitez d'une expérience multimédia de haute technologie, interactivité qui ravira toute la famille. Quand la technologie rencontre l'histoire au musée avec une exposition centrée autour de l'excavation d'une maison viking datant du 10ème siècle.


Fréquence: 60 minutes.
Durée: 60 minutes.
Saison: Tous les jours à partir de 10h, du 8 Juin au 5 Septembre.


Jours additionnels: 17 May ; 8, 9, 12, 13, 14, 17, 18, 19 et 23 Septembre.
Veuillez noter que le bus ne fonctionne pas le 17 Juin et le 11 et 18 Août (jours de célébration).
ITINERAIRE: Harpa Concert Hall & Conference Centre, Skarfabakki Harbour (only when crew ships are in the harbor),
City centre (Tour starts every hour on the hour), Whale Watching centre, National Museum, BSI Bus Terminal, Perlan,
Kringlan Shopping Centre, Hilton Reykjavik Nordica, Reykjavik City Hostel, Skarfabakki Harbour, Hallgrimskirkja.


Ticket valable toute l'année! Achetez votre ticket en ligne et évitez la file d'attente!

Les tickets seront envoyés par e-mail.