Stockholm Hop-on Hop-off Bus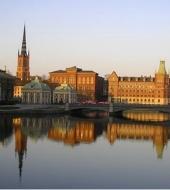 La façon la plus confortable d'explorer toutes les merveilles que Stockholm a à offrir!
Stockholm donne sur la mer Baltique. Bénéficiant de 700 ans d'histoire, la ville est le foyer de grands bâtiments publics, des palais et possède une riche histoire culturelle. Stockholm est mondialement célèbre pour être incroyablement pittoresque et s'étend sur 14 îles. Stockholm est entourée par l'eau et possède un parc, une forêt et de belles vues. Découvrez le célèbre Palais Royal, les églises gothiques, les boutiques swédoises de conception-design et d'excellents cafés et restaurants. Montez à bord de l'un de nos bus à toit ouvert et explorez Stockholm et ses sites à votre propre rythme. Nos bus s'arrêtent à des endroits soigneusement choisis, y compris l'hôtel de ville, le musée Wasa et le Skansen. Des combinaisons de voyages bus et en bateau sont disponibles – descendez tout simplement à Strömkajen où les bateaux touristiques de Stockholm partent au moins une fois chaque demi-heure.


Parcours: Royal Palace/Stromgatan, Gustav Adolfs Torg and the Royal Opera, City Hall/Central Station, Kulturhuset, NK/Hamngatan, Strandvägen, Vasa Museum, Skansen, Djurgårdsbron, Kaknästornet, Frihamnen, Tallink/Silja, Karlaplan, Stureplan.
Fréquence: Toutes les 20 – 40 minutes du 5 Avril au 30 Septembre.


Ticket valide toute l'année! Achetez votre billet en ligne et évitez la file d'attente!

Les tickets seront envoyés par e-mail.