Mascate Hop-on Hop-off Bus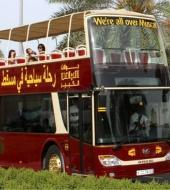 Découvrez Mascate et ses merveilles avec le bus à montée et descente libre!
La visite d'un jour est une visite à montée et descente libre de Mascate. Depuis la magnifique vue d'un bus à toit ouvert, le circuit du Big Bus est une parfaite introduction à la capitale d'Oman. Le parcours soigneusement conçu vous emmène vers les principaux monuments et sites historiques, tandis que votre commentaire personnel enregistré et divertissant (disponible en six langues) vous fournira des commentaires et des éclairages sur l'histoire et la culture de la ville. Dès le moment où le bus partira, vous serez fascinés par la majesté et la beauté de Mascate. Asseyez-vous, détendez-vous et profitez du magnifique paysage et du décor montagneux.
Détails horaires
- Profitez-en tous les jours de l'année
- Vous pouvez commencer la visite d'un jour depuis le point de départ principal au Souk Muttrah à 9h00 ou à n'importe lequel de nos 12 arrêts dans la ville.
PARCOURS: Al Shatti, Royal Opera House, Mangrove Lagoon, Qurum Beach, Ruwi, Muttrah Fort, Parliament Building, The Marina, The Old Quarter, Muttrah Corniche.
Ticket valable toute l'année! Achetez votre ticket en ligne et évitez la file d'attente!

Les tickets seront envoyés par e-mail.