Dubai Bus Hop on Hop off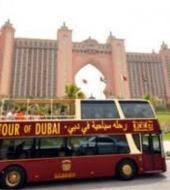 Scopri Dubai e tutte le sue meraviglie con il Bus Hop on Hop off!
Il bus Sali e scendi vi offre la migliore visita della città di Dubai, con il commento personale disponibile in dieci lingue diverse. Due percorsi del Tour, il Beach Tour e il tour della città, offrono il perfetto orientamento di Dubai. Si può salire e scendere tutte le volte che si desidera ed esplorare più di venti luoghi di interesse. Alla scoperta di tutto dal mondo famoso di Burj Al Arab al tradizionale oro e spezie. Per soddisfare il vostro itinerario, è possibile scegliere un biglietto di 24 ore o di 48 ore, offrendo un sacco di tempo per visitare tutte le attrazioni che ti interessano.
È inoltre possibile godersi il tour di notte, un giro di 2.45 ore di Dubai con il commento dal vivo di una guida qualificata che sottolinea i punti salienti di questa brillante città. È inclusa anche la luce Wafi emozionante e suoni nel tour. Il Tour Notte di 'una volta' è una scelta eccellente quando il tempo è prezioso, che consente di sedersi, rilassarsi e godersi il panorama spettacolare quando il sole tramonta e Dubai prende vita.
Siamo inoltre lieti di fornire diversi servizi in omaggio con il biglietto: un Dhow Cruise Arabico a Dubai Creek, ingresso al Museo di Dubai, Ingresso alla casa di Sheikh Saeed Al Maktoum, un biglietto per la RTA Water Bus; Walking Tour (da ottobre ad aprile); libretto Big Bus Rewards che offre il dettaglio sostanziale, il tempo libero e sconti per il pranzo a Dubai e Abu Dhabi.
dettagli del programma
• Godetevi ogni giorno dell'anno
Il Tour Notte: 365 giorni l'anno
È possibile avviarlo:
19.15 - Deira City Centre
19.15 - Burjuman
19.30 - Dubai Mall
19.45 - Mall of the Emirates
20.00 - Souk Madinat
PERCORSO: Il Burj Al Arab, la Moschea Jumeirah, Al Fahidi Fort e Museo di Dubai, il Gold Souk, il Burj Khalifa, The Spice Souk, Jumeirah Park & Public Beach, Atlantis The Palm, Sheikh Saeed Al Maktoum di, Torrente di Dubai e Emirates Towers.
Il biglietto è valido tutto l'anno! Acquista il tuo biglietto online e e salta la fila!

I biglietti saranno inviati via email