Berlijn Hop on Hop off Bus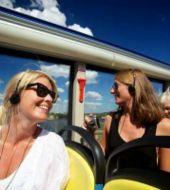 Ontdek het fascinerende Berlijn met de comfortabele Hop-on Hop-off Bus!
De Hop-on Hop-off bus biedt u de uitgelezen mogelijkheid om alle toeristische trekpleisters van Berlijn op een comfortabele manier te bezichtigen. U kunt rustig blijven zitten en genieten van hoe deze historische stad aan u voorbij trekt of uitstappen bij één van de 20 haltes. Breng een bezoek aan het Permagon museum, geniet van de rivier de Spree, het Potsdamer Platz of ga winkelen bij Kurfürstendamm of Friedrichstraße!
NU MET 10% KORTING BIJ TICKETBAR!
De bus rijdt 7 dagen per week en u kunt 2 dagen lang gebruik maken van het ticket. U kunt in- en uitstappen waar u maar wilt. Uiteraard is er ook de mogelijkheid om te blijven zitten en te genieten van de 2-uur durende tour. Tijdens de tour krijgt u door middel van een Nederlandse audioguide meer uitgelegd over de historie van deze bijzondere stad en over de vele topattracties die Berlijn heeft bieden.
Ticket is 2 dagen lang geldig (48 uur achtereenvolgend)
Vertrek:
Elke dag van het jaar, om de 10 minuten tussen 10:00 - 18:00 (in de winter tot 17:00)
Ticket is het hele jaar geldig, uw ticket wordt geactiveerd op het moment dat u de voucher inlevert!

Tickets verzonden per e-mail.