Oslo Hop on Hop off Bus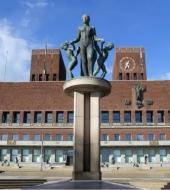 Ontdek alle hoogtepunten van het mooie Oslo met de comfortabele Hop-on Hop-off Bus!
De Noorse hoofdstad Oslo is de oudste Scandinavische hoofdstad, die in de 11e eeuw werd gesticht door Harald Hadrade.
Oslo is een zeer gemoedelijke stad, waar geschiedenis en het hedendaagse leven elkaar ontmoeten. De stad heeft musea van wereldklasse, een bruisend nachtleven en er zijn een tal van activiteiten in de buitenlucht mogelijk!
Er is geen betere manier om alle bezienswaardigheden van deze mooie stad te ontdekken dan vanaf het dek van een open dubbeldekker bus, waarmee u 360 graden panoramisch uitzicht heeft over de hele stad! De moderne, open dubbeldekker bussen zijn uitgerust met state-of-the-art audiosystemen die u van interessante achtergrondinformatie en wetenswaardigheden voorzien tijdens de tour. Stap in en uit, wanneer en hoe vaak u maar wilt op verschillende Hop-On Hop-Off locaties in de stad. U heeft alle tijd om op uw gemak de stad te verkennen. Vermijd wachtrijen, koop uw ticket online en spring direct in de bus!

Details:
• Eerste vertrek: 9.45 uur (2 mei t/m 30 september en 2,3,4,11 Oktober)
• Frequentie: Elke 90 minuten
ROUTE( 90 minuten): Oslo City Hall, Oslo Cruise Terminal & Akershus F., Oslo Opera House, Oslo Central Station, Clarion Royal Christiania Hotel, Grand Hotel & Karl Johan Street, Oslo City Hall, Oslo Parliament & Karl Johan, The Royal Castle & The Ibsen Museum, Vigeland Sculpture Park, Norwegian Museum Of Cultural History, Viking Ship Museum, Kon-Tiki, Fram & Norwegian Maritime Museum, Viking Ship Museum, Norwegian Museum Of Cultural History, Aker Brygge
Ticket is het hele jaar geldig, koop uw ticket online en sla de wachtrij over!

Tickets verzonden per e-mail.