Parijs Hop on Hop off Bus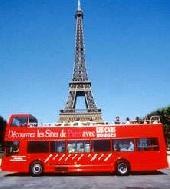 Ontdek de hoogtepunten van Parijs met de comfortabele Hop-on Hop-off bus!
Parijs heeft een aantal veelgebruikte bijnamen, zoals: de Stad van de liefde, de Stad van de mode en Parijs wordt ook wel de lichtstad genoemd. Parijs is een veelzijdige stad en het is eigenlijk onmogelijk om alles in een korte tijd te zien. Onze Hop-on Hop-off bus helpt u een handje!
De Hop-on Hop-off bus rijdt door het centrum van Parijs langs 9 haltes: de Eiffeltoren – Champs de Mars – Louvre Museum – Notre Dame –Orsay Museum – Opera/Galeries Lafayette – Champs Elysées/Etoile – Grand Palais – Trocadéro.
BESPAAR €2 PER TICKET!
Geen pijnlijke voeten meer van het lopen door de immense en indrukwekkende stad, want onze Hop-on Hop-off Bus neemt u graag mee langs de plekken die Parijs zo veelzijdig maakt. U kunt op- en afstappen op de plekken naar keuze of blijf zitten voor een tour die 2,5 uur duurt. Uw ticket is de hele dag of voor twee opeenvolgende dagen geldig.

Koop uw tickets bij Ticketbar en ontloop de lange wachtrijen! Uw ticket is het hele jaar geldig en u ontvangt uw tickets per e-mail direct na uw bestelling.

Vertrektijden:
• Elke dag van het jaar
• Op- en afstappen van 10.00u tot 18.30u. (zie vertrektijden bij haltes voor exacte tijden)
• Frequentie: 10 – 20 minuten (afhankelijk van het seizoen)

Tickets verzonden per e-mail.