New York Hop on Hop off Bus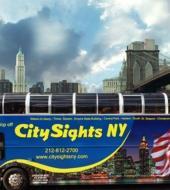 Geniet van de hectiek in 'The Big Apple' op de meest comfortabele manier!
Geniet van het beste uitzicht op de topattracties, buurten en bezienswaardigheden van New York City met de comfortabele Hop-on Hop-off Bus! De gidsen zijn zorgvuldig geselecteerd en goed opgeleid, naast de gebruikelijke stadsinformatie vertellen de gidsen ook verhalen over wat zij zelf hebben meegemaakt in 'The City That Never Sleeps'. Op deze manier leert u de stad goed kennen. Tijdens de koudere periode beschikt de Hop-on Hop-off Bus over een doorzichtige kap en verwarmingsspiralen waardoor het heerlijk warm is.
Met de Hop-on Hop-off Bus New York kunt u kiezen uit: 'de Downtown Tour', 'de Harlem Tour' of 'de Brooklyn Tour', alle drie de tours geven u een verschillend beeld van de stad!
Met 'de Downtown Tour' bezichtigt u onder andere: Times Square, Empire State Building, Financial District, Chinatown, Site of the World Trade Center en Wall Street.
Met 'de Harlem Tour' brengt u een bezoek aan: Fifth Avenue, Guggenheim, Harlem Market, Central Park en Lincoln Center.
En 'de Brooklyn Tour' neemt u via de Brooklyn Bridge mee naar de overkant van Manhattan. In deze wijk ziet u de elegante herenhuizen, bijzondere kerken en opmerkelijke culturele instellingen die deel uitmaken van de fascinerende wijk.
Vertrektijden:
Hop-on Hop-off 'Downtown Tour':
Dagelijks van 8.00 tot 18.00 uur
Vertrekpunt van 7th Avenue (tussen 41st & 42nd Street en Broadway tussen 47th & 48th Streets)
Bussen vertrekken om de 15 minuten
Hop-on Hop-off 'Harlem Tour':
Dagelijks van 9.00 tot 17.00 uur
Vertrekpunt van 8th Avenue (tussen 42nd & 43rd Streets)
Bussen vertrekken zeer frequent (elke 15 minuten)
Brooklyn Tour (geen Hop-on Hop-off Bus!):
Dagelijks van 10.30 tot 15.00 uur
Vertrekpunt Battery Place & State Street
Bussen vertrekken om de 30 minuten
Met de 'All Around Town Tour' kunt u gebruik maken van alle drie de tours voor een aantrekkelijke prijs!
Koop uw ticket online en vermijd de lange wachtrij!


Tickets verzonden per e-mail.